Corrugated Corn Vermicelli Production Line - Extruding Process

Made from cornstarch, corn vermicelli (glass noodles) is semitransparent and is different from regular corn pasta which is made from corn flour. This starch vermicelli processing line can be used to make cassava vermicelli or make vermicelli from other categories of starch.


Unit Operation

The corn vermicelli production line consists of 10 machine units and 3 electrical control cabinets.

(1) Dosing device

(2) Starch steaming mixer

(3) Dough storage feeder

(4) Dough strip extruder

(5) Vermicelli extruder

(6) Steamer

(7) Cooler

(8) Automatic cutting machine

(9) Dryer

(10) Cooler


Operation Description
Add a certain amount of water to the cornstarch and stir. After ~ 6 minutes, send steam into the mixer and cook for 2 ~ 3 minutes to make the original loose starch material agglomerate and translucent. At this time, the material is uniform in moisture. The starch with a degree of gelatinization of about 60%, then open the discharge port of the mixer, and the starch mass will automatically fall to the dough storage feeder in the lower layer for storage and start stirring. The dough strip extruder screw pushes the nuggets into the screw of the dough- strip-extruder; and after being squeezed and transported by the extruder screw, the original loose nuggets become a continuous dough strip, which continuously enters the vermicelli-extruder. Into the feed port, the vermicelli-extruder further squeezes the dough. The dough is turned into a flowing state, the temperature rises and the degree of gelatinization also increases rapidly. Under the strong pressure of the vermicelli-extrusion-screw, this fluid pasta is squeezed out through the die plate and becomes crystal clear vermicelli with a diameter of about 1.0 mm.

As the conveyor speed of the steamer is slower than that of the vermicelli, the vermicelli is evenly and irregularly corrugated and each extruder head produces a vermicelli belt about 125 mm wide and 25 mm thick. At this point, the vermicelli is forcefully cooled by the wind blown by the fan that is above the extrusion head. The vermicelli surface moisture evaporates, the temperature decreases, the surface of the vermicelli hardens, the curves of the vermicelli are kept and flat belts of uniform wavy vermicelli are formed.

After the vermicelli belts enter the high-temperature steamer, its ripple shape is quickly fixed by the steam. Then, when the vermicelli leaves the steamer it is cooled sharply by a fan installed outside the steamer, and the hot steam on its surface is quickly evaporated, while the stickiness of the hot vermicelli is reduced. Then, the vermicelli belt is cut into blocks by the automatic cutting and discharging machine, and the vermicelli blocks is automatically sent to the dryer for drying. After drying and finally cooling, we have the final cornstarch vermicelli product ready for packaging.
▶️ On this Site
▶️ On YouTube
Our turnkey project in Indonesia.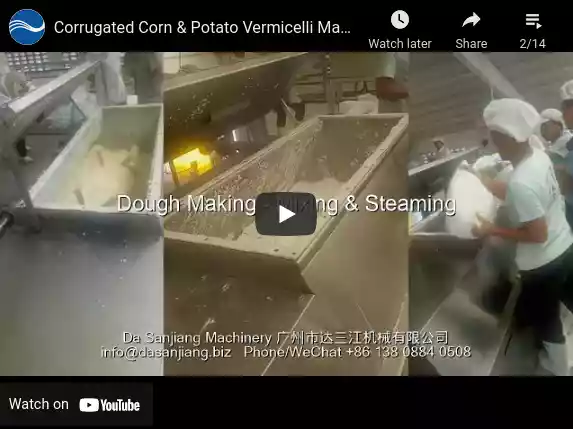 ▶️ On this Site
▶️ On YouTube
Our turnkey project in the Philippines.