Hot-air-dried non-fried instant noodle Machine - Automatic Production Line
Dried instant noodles, also known as non-fried instant noodles, made by the hot-air-dried instant noodle machine, are ready to serve in 5 minutes simply by adding boiling water to the dried noodles in a bowl. Being low-fat and free from potential harmful chemicals that may have been generated in the deep-fry process, the dried instant noodles are increasingly becoming popular.

We are among the first companies in China who design and make the completely continuous production line of instant noodle machine to make non-fried instant noodles.

The new intant noodle machine techniques we used in this production line includes vacuum mixers for dough preparation, multiple layer steamers, and refrigeration noodle cooling process. The noodle machine is designed to increase the alpha-starch gelatinization of the noodles during the steaming process, to prevent the sticking together of the noodles, and to enhance the re-hydration when the final product noodle cake is soaked in hot water, so that the ready-to-serve noodles will have the delicious texture.

We make hot air dried, non-fried instant noodle machine that make noodle cakes of square type, round type, long type and hand-shaped type. We can also make one noodle machine that will make several types of noodles. The weight of noodle is from 45g to 120g. The output capacity of the noodle machine is from 50000 to 200000 pieces per 8 hrs. The roller width is from 200mm to 700mm.

Main Technical Parameters of Dried Instant Noodle Machine
Model
Output/8hrs
Pcs (75g)
Power
(KW)
Steam Consumption
(kg/hr)
Operators
person/shift
dimension
(L.W.H meter)
DIN-4W
40,000
65
1,200
5
85X4X5
DIN-6W
60,000
78
1,400
6
90X4X5
DIN-8W
80,000
105
1,500
6
95X4X5
DIN-12W
120,000
125
1,700
6
95X4.5X5
DIN-16W
160,000
140
1,900
6
95X5X5
FLOW SHEET



Flour → Mixing and Dough Preparing → Compound Rolling → Aging → Continous Rolling →  Slitting / Ripple Forming → Steaming → First Cooling → Stretching, Cutting & Boxing → Drying → Second Cooling → Product of Non-fried Instant Noodle Machine



Non-fried Instant Noodle Machine - Dough Making



Non-fried Instant Noodle Machine - Compound Rooling





Non-fried Instant Noodle Machine - Continuous Rolling



Non-fried Instant Noodle Machine - Cutting and Corrugating



Non-fried Instant Noodle Machine - Steamer



Non-fried Instant Noodle Machine - Stretching, Cutting and Tray-Placing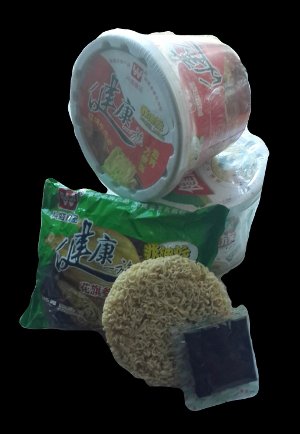 Non-fried Instant Noodle Machine - Products